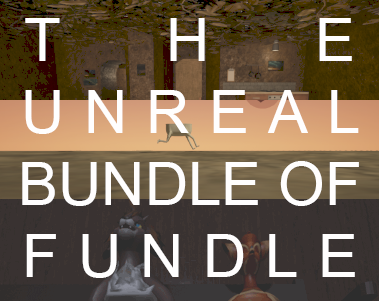 The Unreal Bundle of Fundle
A downloadable game for Windows
Three teeny games from a class I took about Unreal Engine 4! Wow!
WARNING: Though the games are teeny, the files are pretty big. You may want to delete them when you're done playing.
WARNING 2: All games are PC only, sorry for the inconvenience!
1) Fantastic Mr. Fox Room Reconstruction
A 3D reconstruction of a room from the fantastic movie Fantastic Mr. Fox! There's a fun bonus room in there as well ;)
WASD - Move
Mouse - Look around
Alt + F4 - Quit
2) Bathtub Barrage
A shmup where you play as a bathtub carrying water to a dried up city. You must lob water at the machines trying to destroy you, but be sure to catch the water on its way back down or else you'll have nothing to bring to the city!
Arrow keys - Move
Z - Lob a sphere of water
R - Reset game
Alt + F4 - Quit
3) Kingdom Hearts: All I Ask
A brief walking experience where you get to witness one of the greatest romances of all time.
WASD - Move
Mouse - Look around
Alt + F4 - Quit