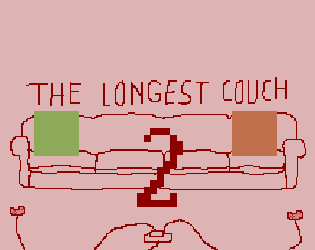 The Longest Couch 2 (prototype)
A downloadable game for Windows and macOS
this is a 2 player game! can only be played by 2 people!
INSTRUCTIONS - PLAYER 1:
Put your hand on the WASD keys!
A and D - Move left/right
Hold W - Jump
S - Freeze




INSTRUCTIONS - PLAYER 2:
Put your right hand on the arrow keys, and your left hand on "," "." and "/"!
Arrows keys - Move
. - Shoot
, - Freeze Bullets
/ - Boost
TIP: If you get stuck, make sure both players have tried all of the different abilities available to them! There are no instructions in the game (sorry!) so you may want to write these down or reference this page when you play.


NOTE: This is a prototype of an ideally longer game! Aka there's no ending it right now it just kind of abruptly stops hehe.


NOTE 2: Should work with controllers if you've got em!